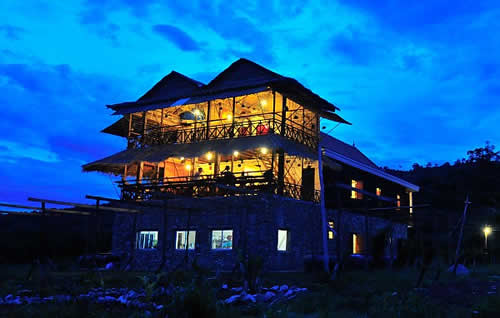 The Vine Retreat
Located near Phnom Voar on a pepper plantation, between Kep and Kompong Trach, not far from the Vietnamese border, is the Vine Retreat, a wholesome bed and breakfast with solar hot water and and organic pepper and vegetable farm.

The Vine Retreat is great for relaxing, yoga or trekking. 8 rooms.
Free Wi Fi

Rooms from $25 - 45$ incl. breakfast. Special group rates available.

Located in the rural village of Chamcar Bei in Kep province at the base of Phnom Voar or Vine Mountain. The Vine Retreat is a wholesome bed and breakfast and working organic farm. The Vine Retreat has expansive views of the surrounding countryside with its limestone karsts and views of the headlands in Vietnam.
Part of the grounds at The Vine are being cultivated into an organic farm which currently supplies the restaurant and bar with some organic produce . The farm is currently growing banana, mango, jackfruit and coconut trees, passion fruit vines, vegetable and herb gardens and our proudest crop, the world famous Kampot Pepper. The farm employs local Cambodian farmers who use only traditional farming techniques. Green fingered guests are welcome to pitch in and get their hands dirty.
The Vine Retreat has a salt water pool for you to relax and refesh yourself after a long day on the road or out and about.

The bar & restaurant are open all day offering a selection of wines, spirits and ice cold beers. Our cook prepare the most authentic local dishes. Breakfast is served all day.

The Vine Retreat is also deeply engaged in our local community in the Phnom Voar area. The Vine Retreat is work with the local community forestry committees to develop a trekking program which will finance to finance the restoration and management of the forest on Vine Mountain.

The Vine Retreat aims to contribute to these local development efforts by hiring local staff, buying local produce, and promoting local fair trade products.
We have basket bikes available for hire .
We are also able to easily arrange walking tours of Kep national park and day trips to Kep, Rabbit Island, Secret beach and to the world famous crab shacks to sample some wonderful seafood.
For larger groups interested in activities such as Yoga, Photography, trekking and bird watching The Vine Retreat is able to organize retreat weekends based around these activities.
You can contact us at
Tel: +855-97-461-0711
Email: info@thevineretreat.com
website: www.thevineretreat.com

Book a room at The Vine Retreat

Kep Hotels