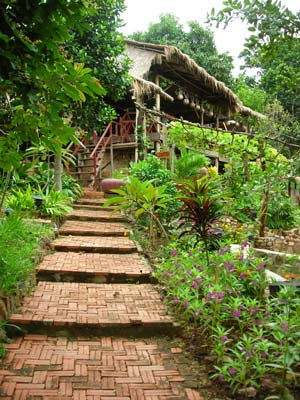 Le Bout du Monde
Situated on the hill overlooking Kep's beaches and islands, Le Bout du Monde offers a spectacular adventure. 5 bungalows and private Khmer style houses, all with private balconies and surrounded by gardens.
Individual and separate bungalows and residences in traditional khmer architecture, built on piles and made of wood and stones. Located at the top of a balmy hill, with view over the gulf of Thailand, in landscaped gardens
Our menu is made of French gastronomy as well as Cambodian cuisine which is based exclusively on fresh produce from the garden or from the local market: fish, shellfish, salads, vegetables .
Some scenes of Bertrand Tavernier's "Holy Lola" starring Isabelle Carré and Jacques Gamblin were shot in the Guesthouse (restaurant & bungalows).
Bungalows and houses from $15 to $85.
Guesthouse's phone number : +855 (0)11.96.41.81.
email : contact.leboutdumonde@gmail.com

Book a room at Le Bout du Monde