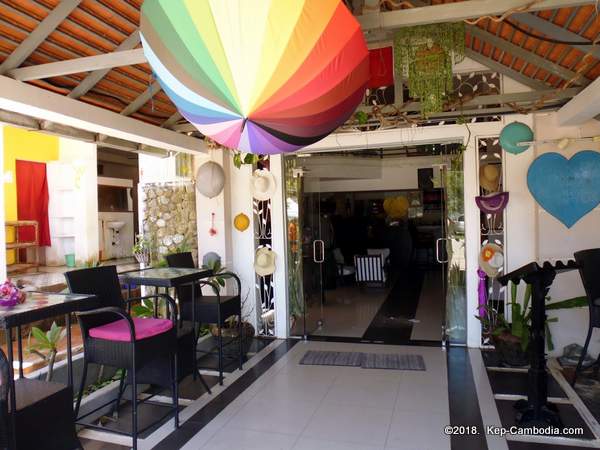 Cote Plage in Kep
Hotel, Bar, Restaurant, Boutique, and Bathrooms.
Pretty much everything you need, right across from Kep's Beach.
Hotel de la Plage,
Lili Perles Boutique
Restaurant with Khmer and French Food and Ice Cream
Beach bathrooms.
Boat rental.
Bar.
Creperie & Ice-creams
We have a good selection of ciders, red and white wines to accompany your meals.
Cold and hot snacks can also be ordered all day.
Happy hours on cocktails !! From 6pm till 8pm
Rooms, Fan or Air-Con from $7 to $40. Sea View balcony or terrace.
Hotel reception >> from 7am to 22pm
-Night security >> from 22pm to 7am
-Breakfast from 7am till 11am (not included in rooms rates)
-Non smoking rooms
-Guarded parking
-Free WIFI
-Room service on request
-Laundry service ( $1/kg)
-Beach towels provided
Tel: 017 751 600
e-mail: coteplagekep @gmail.com