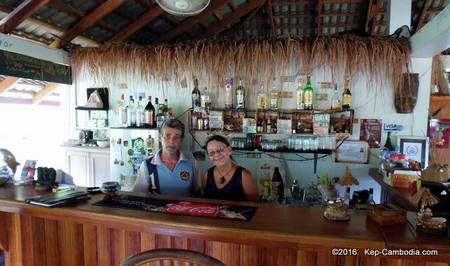 Blue Kep Bungalows
Bungalows, Restaurant and Bar. French run, on the hillside of Kep.
Pool table, boule, and a nice view with gardens.
Special Kep Crab Lasagne and Paille.

Basic bungalow from $20 to $28. Fan rooms with air-con, hot water baths. 5 bungalows.

TSitué à 15 minutes a pieds du crab market; au pied du parc national de Kep; entouré d un jardin tropical.
Nous vous proposons nos 5 bungalows de style khmer.
Îls sont tous équipés de climatisation, ventilateur, douche avec eau chaude , moustiquaire et articles de toilettes.
Une connection wifi avec haut debit fibre optique disponible au restaurant et dans certains bungalows.
Nous pourrons organiser pour vous tel que :
Excursions campagne de kep ,arbre magique, tour bateau, iles aux lapins. Grottes et pagodes, ancien temple, plages et lac secret, parc national de kep, fermes aux papillons,