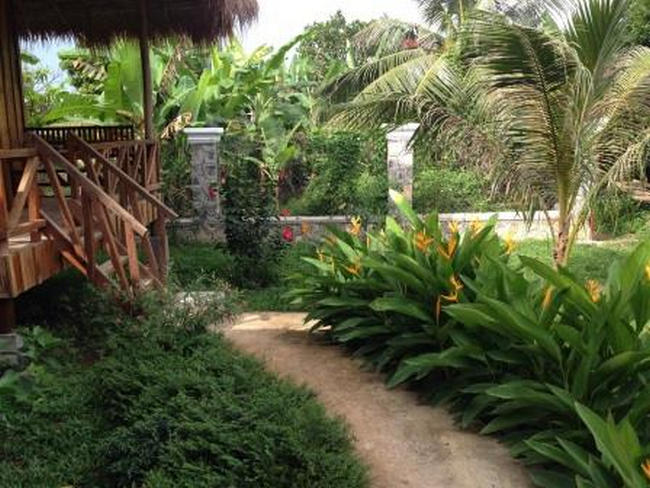 Le Coco De Mer Bungalows
We are extremely proud to present one of Kep's finest accommodation structures offering excellent Bungalows and exquisite cuisine.

From the luxury of elaborated marble and wood within the structure's rooms, to the prestigiously furnished structure (restaurant, outdoor balcony, garden and business center), Le coco de mer complex offers all the modern day amenities of a true modern-day.
Our staff is absolutely at all times available for any questions you might require.
All Le Coco De Mer Bungalows have
Khmer traditional décor and a private terrace, bathroom and LCD (TV).
There is a free Wifi available in all the bungalows and garden and a Shisha lounge near the coconut and mango trees.

The Le Coco De Mer complex features a garden side snack bar and a breakfast buffet restaurant with a terrace Restaurant, Shisha lounge and bars can be found next to reception and bungalows.

Le Coco De Mer offeres 3 knids of bungalows (Luxury bungalows with A/c, Wooden double bungalow with fan, wooden twin bungalow with fan). Bungalows are $20 - $35 per night.

Surrounded by peaceful greenery, Le Coco De Mer Bungalows is situated just 3 km from Rabbit Island. Offering well-appointed guestrooms, guests also enjoy free internet access and free private parking facilities.

This cosy property is conveniently placed just 300 metres from Kep National Park and the popular Crab Market. The holy temples of Wat Samathi and Wat Samot Raingsey are both 1.5 km away. The beach is only 1 km from the hotel.

A 24-hour front desk will be happy to assist with laundry/dry-cleaning services, ticket purchases and free bicycle rental services. Guests can also utilize the motorbike rental services to get around the area. Organizing taxi to all cities in Cambodia.
+855 90 880 513
+855 90 880 513
lecocodemer.bungalows@yahoo.com.sg